STUDI
The worlds first Crypto token that powers a decentralized Student and University led Freelance Market Place with Student Loan Payoff, and Scholarship Incentives.
How to Buy
Contract Address:
0xc751b723f7B5b014bCD5a2C1c52552659D77bCb0
Copy the contract address and paste it into Pancakeswap 'Select a Token' Box.
** NOTE ** you will need a wallet.  We recommend Metamask (secure and easy to use).
Paste STUDI Contract Address inside the Select a Token Box as show below.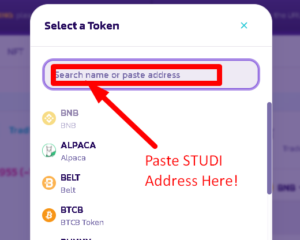 What is STUDI ?
The worlds first education based, community-driven DeFi Crypto Token. STUDI is used to power a new freelance market place called www.studihire.com.
University students and graduates can easily register online and accept jobs for hire. Users can also search for Scholarships, job opportunities, join active discussions on the forums, and receive tips and rewards with STUDI.
The best part? Giving back to the community. A portion of every STUDI transaction is pooled and set aside for new Scholarships and Student Loan Debt payoff. Every child deserves a good education. Lets help the world through education.
Three main functions occur during each trade which fuels the STUDI ecosystem.
2% is allocated to marketing efforts designed to achieve continuous and sustainable growth.
Initial Token Distribution
Marketing & Project Growth.  — 10%
Initial Marketing Efforts
Audit Fees
Exchange Listing Fees
Security Fees
Competitions & Events.  — 10%
Initial Liquidity
StudiHire.com Marketplace
Staking Events
Social Media
Early Investors.  — 4%
Project founders and primary investors.
Public Presale.  — 74%
Public Burn.  — 2%